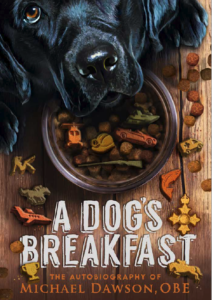 A Dog's Breakfast
2020
Retired businessman Mike Dawson OBE wrote his own life story and asked me to edit the book and arrange design and printing.
"Michael came to my rescue when I was writing my autobiography," said Mike. "After several thousand words I was struggling to make it interesting to the reader and find the right rhythm and flow.
"In fact, it was becoming a chore. With his advice, patience, encouragement and publishing skills I made it to the line. Surprisingly my readers are impressed! Thanks Michael, I owe you."
The fabulous cover image was created by Abby+Owen Design.