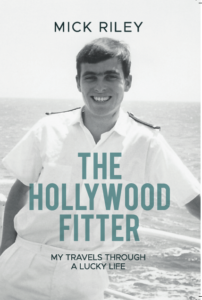 The Hollywood Fitter
My Travels Through a Lucky Life
2018
The Hollywood Fitter is the story of Mick Riley, a scruffy kid from Middlesbrough's Thorntree council estate who is blessed with a winning smile and an inspirational spirit of adventure.
Mick was determined to avoid the humdrum existence that awaited the thousands of men who spent the rest of their lives keeping the wheels of Teesside's heavy industry turning to pay their bills.
Mick's easy-going charm made him a natural salesman. Together with business partner Jim Brennan, he sold anything he could find a buyer for, even travelling to post-revolutionary Iran on one unforgettable trade mission.
But it was when they landed an exclusive agency to sell a German-made oil filtration system that they hit the jackpot. For a while Mick lived the high life, but he soon realised that family life was suffering and decided the time had come to go it alone, Mick named his new business Carbis – the maiden name of his wife and the love of his life, Margaret.
Tragically, Margaret, Mick's dark-eyed beauty, passed away from cancer in January 2013. Utterly heartbroken by her loss, Mick faced by far the greatest challenge of his life. Just a few months afterwards, at the age of sixty-nine, Mick joined a team of charity walkers on an emotional climb to the summit of Mount Kilimanjaro, where the tears flowed as he placed a heart-shaped stone in Margaret's memory at Africa's highest point.
Five years later, with the unwavering support of his loving family, he finally found happiness once again with new partner Elaine.

The Hollywood Fitter includes tales from Mick's flirtation with the music industry, his voyage across the Atlantic and memorable trips to Siberia, Mongolia, Ireland and to film locations throughout the world with Charlotte and son-in-law Tom, as well as driving the Moroccan section of the Dakar Rally – in a £500 car called Mary!