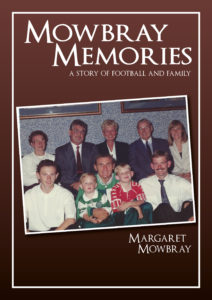 View Sample
Mowbray Memories
A Story Of Football And Family
2015
Clive Mowbray was a hardworking scaffolder from Middlesbrough's Cannon Street area who enjoyed a drink and a bet. But first and foremost he was a family man who would do anything for sons Tony and Darren and daughter Karen.
Football manager Tony wanted his three sons to know about their grandfather, who died before any of them were born.
This was a private project with just 20 hardback copies produced for close family and friends. Although it is primarily about Clive, it was also an opportunity to tell the whole family history.
---
What The Client Thought
Tony was delighted with the quality of the finished product, saying it went far beyond his hopes and expectations.
---
Producing The Book
Tony's mum, Margaret, was the main speaker and I spent three lengthy interview sessions with her, with Tony joining us for one of them. Each of Clive's children then had the opportunity to contribute their own memories. I delved into local history records to find reports about the time Clive heroically rescued six people from a burning house on his way home from a night out, as well as researching census and wartime records of another relative, Albert Lampard, using postcards he sent home from the Western Front to piece together his story.