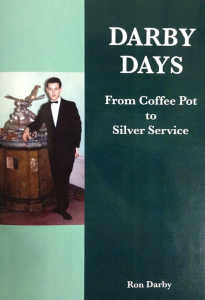 View Sample
Darby Days
From Coffee Pot To Silver Service
Born in 1947 in an area of Trimdon nicknamed "Coffee Pot", the licensed trade was in Ron Derby's blood.
As a child his dad took him on the bus to Darlington, where his grandma ran a pub. He decided there and then that his future lay in the hospitality business. He left school and began work in a washing machine factory, but was soon heading for the bright lights of London, where he worked in some of the capital's most glamorous gentlemen's clubs during the swinging sixties.
He returned north as a head waiter and later became a trainee pub manager, running pubs and hotels in Durham, Northumberland and Yorkshire. Eventually he settled at Middlesbrough's Blue Bell, where he remained as manager for 21 years, becoming something of a local legend.
---
What The Client Thought
I was blown away at the finished product and the way whole the procedure was carried through with the utmost professionalism. My family are overjoyed and will treasure this record of days gone by. I'm also delighted that I've preserved the memory of my ancestors and also that generations to come who will never meet me will know my story.
To say I'm pleased with the finished result is an understatement. I knew the book would be presented to a high quality, but you have excelled in every way. You took on the task of arranging and repairing the old photographs and made them look fantastic. The professional way you dealt with this commission from day one is a credit to you. With deepest gratitude – Ron Darby
---
Producing The Book
Ron was my first life-writing client and I'll always be grateful to him for trusting me with such an important task. I've known him for many years but it was purely by chance that I discovered he had a burning ambition to write his own life story. Ron is a natural when it comes to storytelling.
I gave him a long list of questions in advance and then was able to get all the information I needed in one four-hour interview at his home.
Initially we'd planned a 5,000-word book but it soon became apparent I'd have to double that! We printed 10 copies of the book with a paperback cover. Ron's reaction gave me a great deal of satisfaction and he tells me he'd like to add some more chapters at some time in the future. I'm looking forward to it!