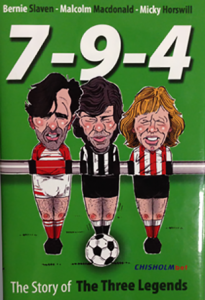 7-9-4
The Story Of The Three Legends
The Book
My close friend Dave Allan took on a huge project when he agreed to write a book about the popular North East radio show The Three Legends. It was the story of how former football stars Bernie Slaven, Malcolm Macdonald and Micky Horswill won a huge audience across the region with their amusing and often controversial weeknight broadcast. Dave asked me to work with Bernie and Malcolm to help them write their life stories for the book and I was delighted to get involved.
---
What The Client Thought
I've known Mike a long time and I've only got good things to say about him. He's an honest lad and I've always enjoyed when we've worked together. He did a fantastic job with the book – he really listened in order to understand what we were telling him. From the footballing side of things, he's very knowledgeable – he's seen enough good games and bad games to be able to comment! Mike helped write Malcolm and my stories in a way that it really came across as being 'us', and for that I can only praise him – Bernie Slaven
---
Producing The Book
Both Bernie and Malcolm had written autobiographies before, so we needed to find something different for this book. Fortunately, neither character is ever short of a tale or two! Former Boro and Republic of Ireland striker Bernie is a loveable Glaswegian who's never too far from a good story and is never afraid to tell it as he sees it. Ex-Newcastle, Arsenal and England goal-machine Malcolm has led an equally colourful life to date, with plenty of ups and downs along the way. Between them they were a ghostwriter's dream and I had great fun helping them tell their stories.